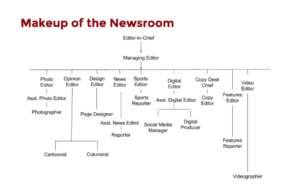 Editorial board
EDITOR-IN-CHIEF: The Editor-in-Chief is in charge of all news content for the College Heights Herald and the WKUHerald digital platforms. The editor is the chief spokesperson for the news organization, primary representative in the campus community, addresses complaints and deals with all outside agencies and individuals when they interact with the news department. The editor-in-chief is selected by the WKU Student Publications Committee after an application and interview process.
Among the editor-in-chief's responsibilities:
Selects section editors and makes final decisions concerning personnel matters dealing with the news department, including hiring and firing.

Conducts regular staff and chairs Editorial Board meetings.

Determines payroll within a budget set by the Director of Student Publications and the adviser to the College Heights Herald.

Works with the advertising manager to determine page count and layout of the print edition.

In consultation with the editorial board, decides news layout and has final say on any aspect of news content or design.

Oversees production of the print and digital editions, assists in completion of any aspect of editorial production that requires attention, does "final reads" on print-edition pages and ensures delivery to the printer by deadline.

Leads all inquiry boards investigating allegations of misconduct on staff.

Serves as a non-voting member of the WKU Student Publications Committee.

Works closely with section editors to help each of them perform their jobs to the best of their abilities.
DIGITAL DIRECTOR: Creates plans and strategies for the digital team. Primary responsibility is to keep the website fresh and updated as well as managing content. The digital director should be forward thinking with how to make stories more engaging on our website (SEO, better headlines, related links, embedded tweets). They will familiarize themselves with our website's analytics and implement strategies to increase traffic. They will assist the digital team (editors, reporters) in any way possible, as well as brainstorming digital-only content. The digital director (along with the print managing editor) will load print stories on to our website after we send the print edition.
SOCIAL MEDIA MANAGER: The social media manager will utilize social media to give our content a broader reach and establish new readers. They will expand all our platforms including Instagram, Twitter and Tik Tok. They will be aware of social media trends and keep our platforms up to date for our audience. Additionally, the social media manager will be aware of our social media's peak times and when to best publish stories. They will social digital stories as well as stories from the print edition. They will also lead a TikTok team, a team of younger reporters responsible for posting to TikTok once a week, if all goes well, twice a week.
NEWSLETTER EDITOR: The newsletter editor is responsible for building our daily newsletters. They will generate content ideas for digital-only/newsletter-only stories. They will work with other editors on how to make our newsletter more appealing to its audience.
DIGITAL NEWS EDITOR: The digital news editor will be responsible for working directly with the staffers on their stories (think of this as our traditional news editor position.) They will assign breaking stories, coach reporters on their writing and structure of their stories. They will edit and post stories to our website in a timely manner. As well as routine stories (recurring meetings, breaking news), they will brainstorm digital-only stories including explainer pieces, SEO-friendly pieces and quick lifestyle stories.
PHOTO TEAM: Both the multimedia editor and the web visuals editor will be responsible for delegating and coordinating photographers to each story assignment. Both will lead photo meetings and coach photographers on how to capture a good photo story, as well as how their individual work can improve. Both editors will be expected to take photos if the situation calls for it. In the event COVID-19 prevents us from returning to a print product in the fall, the responsibilities of the multimedia editor and web visuals editor will become the same, and we will all work together to figure out how to divide their work up fairly.
 MULTIMEDIA EDITOR: The multimedia editor will assist our design editor on photo placement in the print product. They will be responsible for assigning photo stories for the photo pages of the print product. On production days, they will choose and prep photos for our print product. Additionally, these same photos will need to be toned for web. The multimedia editor will then place these photos as assets on blox.
WEB VISUALS EDITOR: The web visuals editor will be responsible for loading photos for digital only stories to blox. They will also work with designers and illustrators on visual (non-photo) components of our site, including illustrations, graphs, graphics and videos. They will work with our social media manager on socialling out our photographer's work on instagram.
COPY DESK CHIEF: The copy desk chief will lead a team of copy editors for both the print and digital products. The copy desk chief themself will do second reads on every story before it is put on the page of our print product. They will also assist with proofing pages before it is sent off. The copy desk will be open to learning new digital skills, including working with the digital director on learning to make online assets have more digital value.
SPORTS EDITOR: The sports editor will be responsible for delegating beats and making sure each game that takes place is covered in a quick and effective way for digital. They will also assign reporters to breaking news situations involving WKU athletics (new players signed, players arrested, changes to the way we watch games, etc.) The sports editor will also be creative with story ideas for our print edition. Gamers will have no place in the print product. The stories will be features on players and coaches, key figures, as well as analytical pieces about game patterns, athletic spending and WKU sport trends.
PRINT MANAGING EDITOR: The print managing editor is responsible for generating ideas, offering guidance to section editors and managing content of the print edition. They will problem solve and delegate. They will be efficient and quick to work toward solutions for a better print product. They will be able to work with section editors and reporters on how to broaden stories so our print edition has in-depth personality profiles, stories which educate our readers, enterprise and analytical work.
ASSIGNMENT EDITOR: The assignment editor will be the section editor for what will become a hybrid of our traditional news and features section. They will assign and coach reporters on stories which contextualize topics for our readers. These stories will be enterprising and analytical and will include investigations, think pieces and long form features.
COMMUNITY PAGE EDITOR: This position was traditionally called "opinion editor." The community page editor will coach and edit staff editorial writers, but will also be responsible for reaching out to our audience for *their* opinions. Campus leaders, students in other majors, etc. They will also work on getting quick student opinions through Twitter polls. They will be forward thinking and innovative in getting content for our opinion section. When necessary, they will write editorials meant to represent the entire editorial board's opinion on certain matters, but they will ideally not be weekly as it has been in the past.
Non-Editorial Board positions
**All staffers must attend staff meetings, meet deadlines and participate in production. Staff members must also aid in the distribution of the Herald in both print and web. Staffers are also expected to report breaking news and check Slack daily for messages. All staffers must familiarize themselves with Herald content management systems including Camayak and Blox. All staffers are representatives of the Herald brand, so staffers must maintain good-standing in the community and must adhere to all policies set forth in the Student Publications Policy Manual including social media best practices.
BEAT REPORTER: Beat reporters write stories within their assigned beat, calls sources on their beat as often as necessary — usually once or twice a week — to keep abreast of potential stories. Beat reporters read other publications and look for stories concerning their beats. Beat reporters produce at least two to three in-depth stories from their beat each semester and contribute online coverage.
GENERAL ASSIGNMENT REPORTER: General assignment reporters write stories they are assigned or develop in consultation with their editor. GA reporters look for potential stories and readily accept assignments for print and online coverage, and attend all staff meetings.
**All reporters are expected to meet deadlines, including filing event stories no more than two hours after the event and to provide any additional content (audio, video, etc.) for the web.
PHOTOGRAPHER: Photographers will shoot assignments given by the photo editor and meet deadlines with assignments for print and online, as well as have complete and accurate caption information. All photographers are expected to pitch at least two to three projects in a semester, including photo stories and multimedia pieces.
PAGE DESIGNER: Designers designing pages and graphics that use visual journalism techniques to convey information for the print and digital products assigned by the Design Editor.
COPY EDITOR: Copy Editors read stories in first copy checking for factual errors, spelling, grammar, AP Style and punctuation.
COLUMNIST: Columnists work with the Opinion Editor to submit opinion pieces for print and web. Columnists must research and investigate their topic before writing.
EDITORIAL CARTOONIST: The editorial cartoonist works closely with the opinion page editor and editor-in-chief to produce thought-provoking illustrations to complement editorials or provide art for the opinion pages. As time permits, the cartoonist may take assignments from other editors to produce covers for special sections, illustrate stories or provide other artwork.